Coming Fall 2022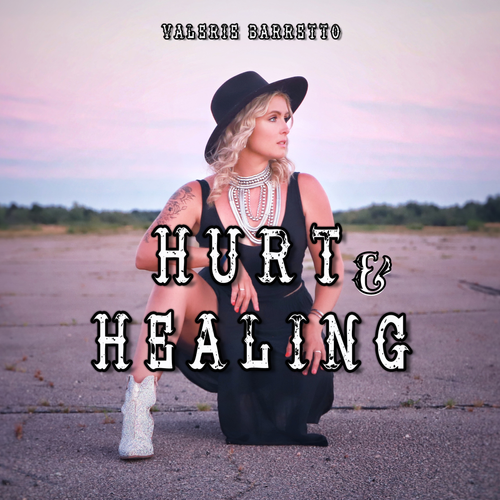 I'm very excited to be releasing my debut original album titled "Hurt & Healing" produced by Sean McLaughlin of 37' Productions. I really think you guys will love this music. It's all about the ups and downs of heartbreak and moving on and up! I believe the songs will be relatable to a lot of people and hopefully will connect with a lot of people on a personal level as well. It's happy, sad, sassy and uplifting... a little bit for everyone! Stay tuned for more updates, sneak-peeks, and singles. Full album set to drop on all streaming services September 30th 2022! My exclusive CD Release was on September 8th! 
You can now pre-save the digital album on spotify! 
Debut Single "Cheers to Space" Official Music Video
Help support my debut album...
By this point most of you know that I am currently in the process of making my dream come true and producing my very first original album. I'm very excited! I think you guys are going to LOVE this! 
However, as you may or may not know, recording studio and production costs are NOT cheap. Studio time, development, production, musician fees, and mastering are all a part of the process and each area brings its own individual and well earned cost. I am currently working full time at my non-profit and putting proceeds from my gigs towards this goal but unfortunately need a bit more help. 
I am looking to raise money to help make this dream a reality. Any amount helps and goes a long way! Please "Share" the link as well to help spread the word! 
$150+ Donation - Receives a signed copy of the album once finished in Summer 2022 and a personal mention in Thank Yous
$500+ Donation - Receives all of the above AND a private booking for any event of their choosing!
$1000+ or "Song Sponsor" - Receives all of the above PLUS a personalized thank you under your chosen track and in all promotional material relating to that track.  
 My most sincere thanks goes out to you, I can not express how much your support in making this dream come true means to me! Thank you a million times over!! 
- Valerie Barretto Music
Thank you so much to those who have already generously supported this dream:  
Jimmy Lampropolous (Song Sponsor)
Joan Barretto (Song Sponsor)
Deb Barretto 
Daniel Miller 
Josh Nugent 
Mark Marrocco  
The Garcia Family 
 Tom Halchuck  
Michael Adams 
Ryan White 
Thank you so very much for your generosity!